History

Offices

Services

Quality and
Insurance Certificates

L
ines Represented

Group of Companies

Contact us

Ports

News

Home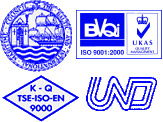 History Of Antoine Makzume Company


80 years of international experience in the world of shipping agencies and international transport is no mean achievement.

80 years that stretch back to 1923, the year when the Turkish Republic was founded and when Emil Antoine Makzume, a prominent Turkish business man formed in Iskenderun a shipping agency which was later taken over by his son Antoine Makzume and which is today internationally known under the name of Antoine Makzume Company.

Shortly after its foundation this young firm gained the confidence of world-wide organisations and thanks to initial and powerful impulse by its founders and successors the company became within a very short time a leading one in the fields of shipping agencies and transport.

Antoine Makzume Company is presently directed by its current owners who have the proper incentives and vision to widen the company's horizons and expanding its business by continued investment in personnel, equipment and premises. This particular phase in Antoine Makzume Company 's growth is an on-going process characterised by its strategy of expanding and offering its principals and clients a first class service without compromising on the quality of the services.

history

offices

services


quality and insurance certificates

lines represented

group of companies

ports

news

line schedule

home

contact us