History

Offices

Services


Quality and
Insurance Certificates

L
ines Represented

Group of Companies

Contact us

Ports

News

Home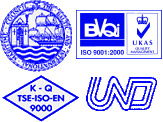 Transportation

The ever increasing transportation needs during the recent decades, prompted the formation and expansion of Antoine Makzume Company transportation and forwarding activities.
During the recent years Antoine Makzume Company has invested in equipment and now owns a trucking fleet of a capacity exceeding 1500 tons composed mostly of new tractors and 12 meters trailers as well as special low beds designed for heavy lifts.

Antoine Makzume Company is a member of the Turkish International Transporter's association (UND) ever since the latter's date of foundation 1975, and since that date is a licensed transporter operating under the international CMR rules.

The transportation of project cargoes has become a major speciality of the company which during the years have successfully transported materials for industrial complexes, power and petrochemical plants be it Turkey or in Iraq and Iran, as well as pipeline (one contract exceeding 160.000 metric tons of various diamaters of crude oil pipes carried from Iskenderun to Iraq in less than 5 months)

Apart project cargoes Antoine Makzume Company is actively involved in all types of transports and forwarding ranging from small household consignments up to large UN relief shipments.

Recently Antoine Makzume Company completed the transportation and custom clearance of the Istanbul Metro Project.

history

offices

services


quality and insurance certificates

lines represented

group of companies

ports

news

line schedule

home

contact us